When it comes to small office interior designs in India, the landscape is evolving rapidly. The modern workplace is no longer just a functional space; it's a reflection of the company's culture, values, and a driver of employee satisfaction and productivity. In this article, we'll delve into the exciting realm of small office interior design trends in India, exploring innovative ideas that redefine workspaces.
Small office interior designs are majorly taken for granted when considered through design aspects. But, even smaller office spaces could be creatively crafted into an inspiring work environment. The Small masculine office ideas focuses on the office spaces with comparatively smaller carpet areas.
The trends pertaining to small office interior designs in 2021 in India are changing the perspective of the typical work environment. The designers have been focusing more on spatial organization rather than cubical office displays. The design approach merely leans towards the idea of increasing creative energy in the working professionals. The use of colours and intrinsic details play a major role in designing the smallest corner of the office space withinterior sliding doors.
Breaking the notion, some firms have brought intrinsically designed smaller office spaces and have provided major interior design goals. A few of such firms are:
1. Humming Tree – Hello Yellow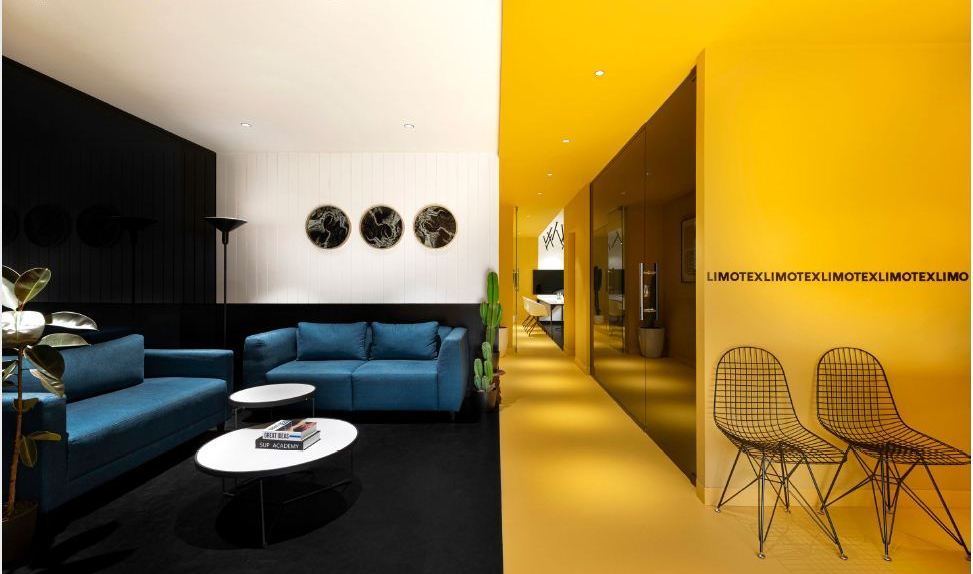 The firm designed the office with an abundance of space which is dipped in yellow, which gives a visual delight, a sense of happy summer. This being the small office interior design, each space is taken care of by the function. With the movement, the color palette slowly shifts between blacks, whites, and a glimpse of green giving the workspace depth. Overall space just elevates the mood as it is said "Hello Yellow!"
Fact File:
Design Firm: Humming Tree Project
Photographer: Justin Sebastian
Area: 1100 sq. ft.
Location: Kerala, India
2. Gaurav Kharkar & Associates – The Arched Office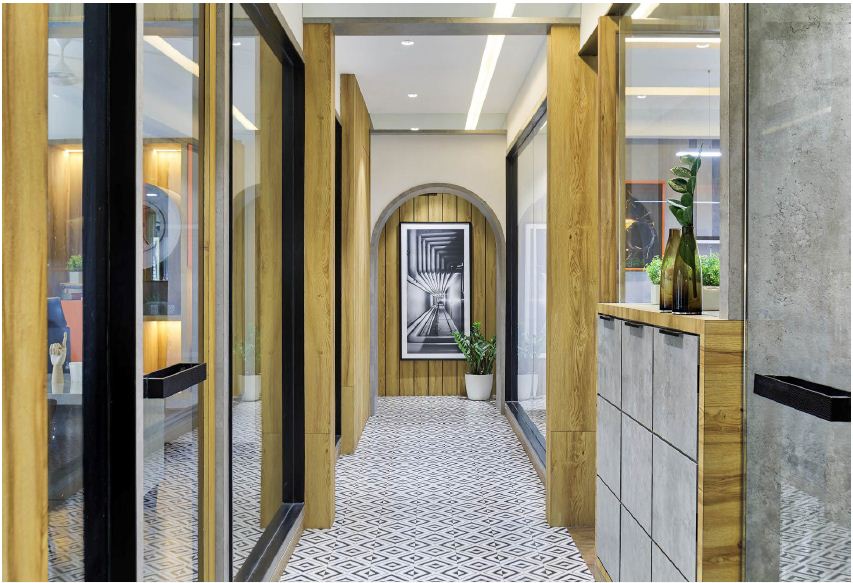 The concept here was to tone the 70-year-old property into a warm contemporary commercial office space. This small office interior design started off with the orientation of the space that was carefully recalibrated, altered and sections of it restored to create space for a new office with additional facilities.
Fact File:
Design Firm: Gaurav Kharkar & Associates
Photographer: Pulkit Sehgal
Area: 1850 sq. ft.
Location: South Mumbai, India
3. Dhaval Patel Architects – DPA Design Studios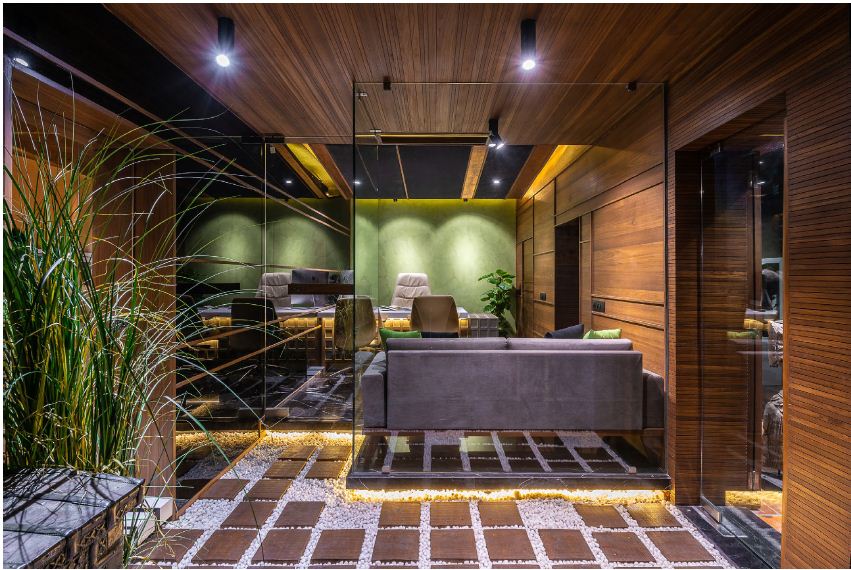 The works of this firm are focused on being design and content-driven. This approach leads them to design their own office on the lines of a fuss-free space with never a boring corner. The intent was to create a space that is a maze of discoveries for the clients and employees. This small office interior design is focused mainly on creating exciting corners and a lively environment.
Fact File:
Design Firm: Dhaval Patel Architects
Photographer: Photographix India
Area: 1500 sq. ft.
Location: Ahmedabad, India
4. The Arch Studio – Raw & Modern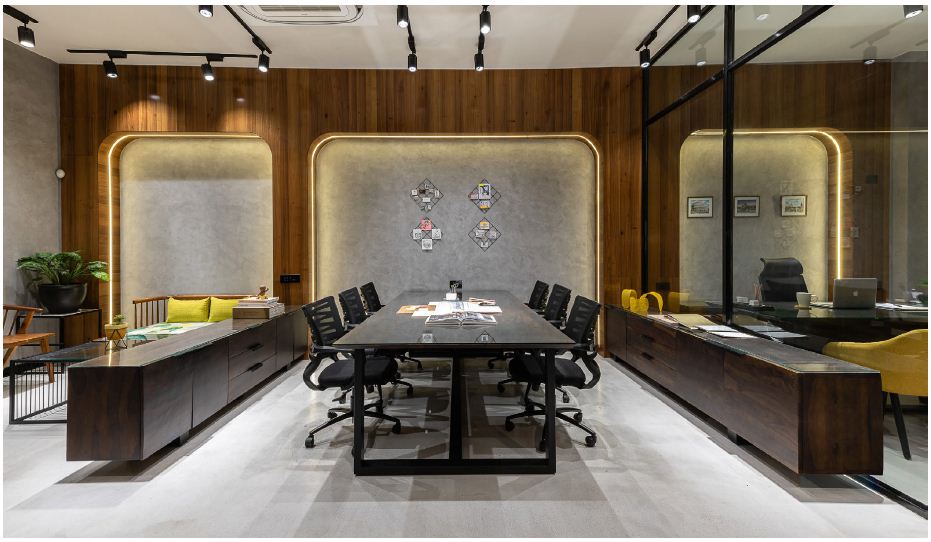 The entire office space has been spatially divided into zones considering the working pattern of the company. Converting the fixed window to a sliding window, and opening out space in front with glass actually created a vista of inside and outside merging seamlessly. The large trees on both sides bring in the natural light inside, where the director can destress by just looking outside.
Fact File:
Design Firm: The Arch Studio
Photographer: Photographix India
Area: 650 sq. ft.
Location: Pune, India
5. Ark Studio – Ark Studio Office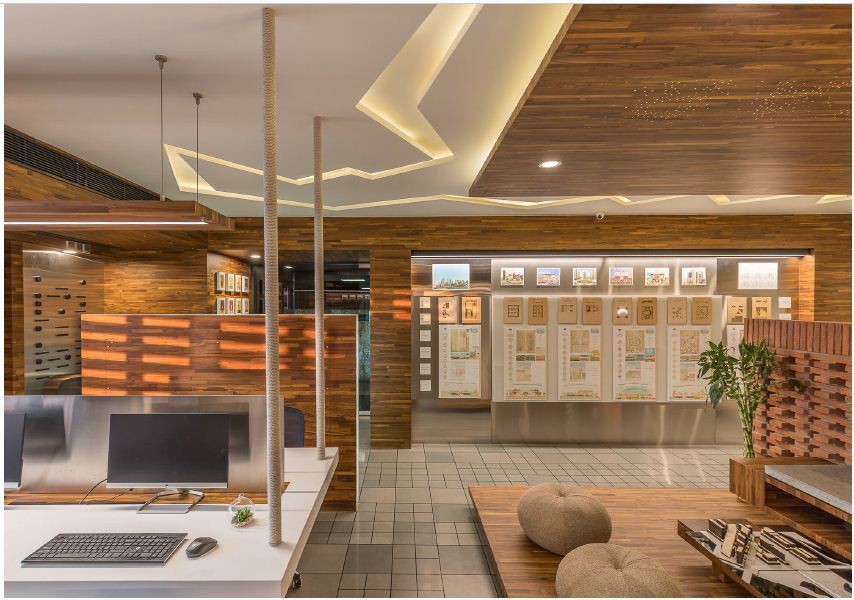 Gone are the days when offices used to be linear spaces with workstations repeated in a regular manner. The main highlight of the studio is open planning. It contributes not only to friendly communication between all the working people but also provides great internal climatic response by increasing passive cooling and circulation.
Fact File:
Design Firm: Ark Studio
Photographer: Prachi Khasgiwala
Area: 1300 sq. ft.
Location: Surat, India
6. Manoj Patel Design Studio – Pratham Packers
Creating the central layout with peripheral continuity for storage and no central obstruction makes the space to be large, airy, and brighter. An artistic approach to articulate the reception backdrop wall is carved by combining natural black granite with hollow clay tile blocks and waste stone strips. View exhibits the dramatic play of light and shadow along with provision for planters through the voids, reflecting an outside and an inside of the reception and pantry respectively.
Fact File:
Design Firm: Manoj Patel Design Studio
Photographer: Photographix India
Area: 600 sq. ft.
Location: Vadodara, India
7. Studio 1101 – Krishna Enterprises
The idea of the office has come a long way from rigid cubicles and bare walls. Today, an office demand vibrancy were users feel lively and keep up their energy levels high. One should experience comfort and curiosity about the space. The entire canvas of the site has neutral shades of grey and rust, teak wood finish furniture with an intentional play of grid and grooves to minimize material wastage.
Fact File:
Design Firm: Studio 1101
Photographer: Inclined Studio
Area: 900 sq. ft.
Location: Ahmedabad, India
8. Neogenesis + Studi0261 – Office 402 Interiors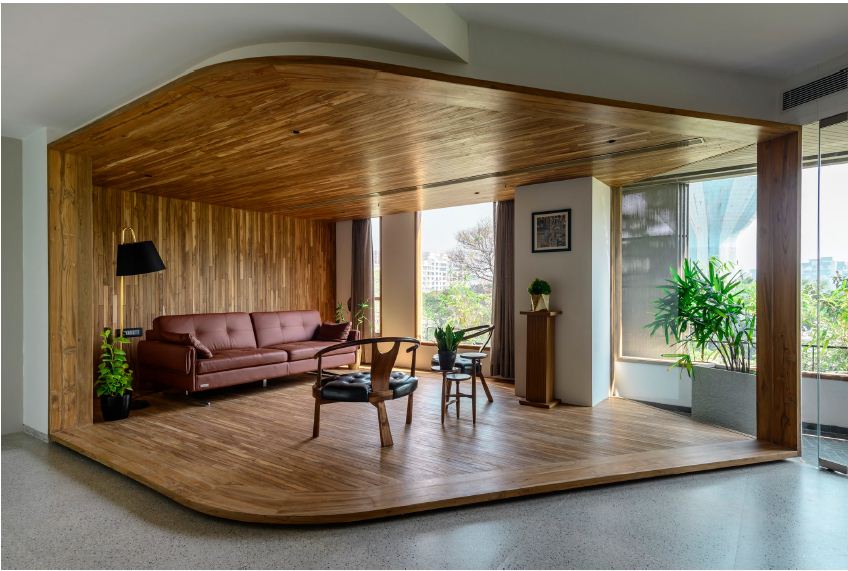 Workplaces are the controlling factor in shaping the mental health of the employees and creates an impression on the clients too. The core focus was creating a space with gravities and at the same time affable. The building materials as well as landscaping elements were kept to their natural forms and followed the steps to minimalism. This project creates a benchmark in offices that are friendly.
Fact File:
Design Firm: Studio Neogenesis + Studi0261
Photographer: The Fishy Project
Area: 1900 sq. ft.
Location: Surat, India
9. The Grid Architects – The Metalbox Office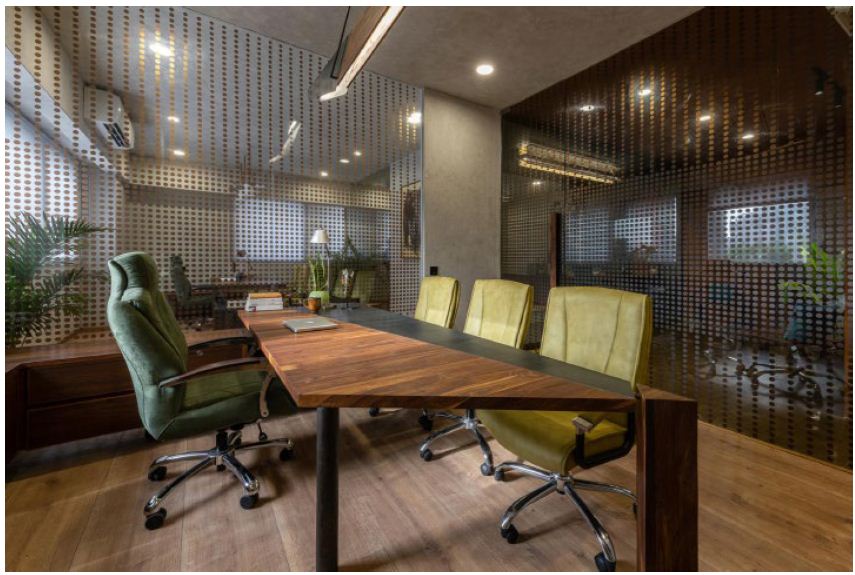 Bringing together varied design sensibilities with common values, the office is an attempt to be both contextual and distinctive. A design creation can be seeded in many things – a thought, a form an emotion. The genesis of this small office interior design project was two words – 'Timeless Appeal.' Aging effects such as oxidation and patinas would add their own dimension on the surfaces over time, to retain the charm of metals such as brass, copper & weathered copper.
Fact File:
Design Firm: tHE gRID Architects
Photographer: Photographix India
Area: 900 sq. ft.
Location: Ahmedabad, India
10. Usine Studio – MPT Offices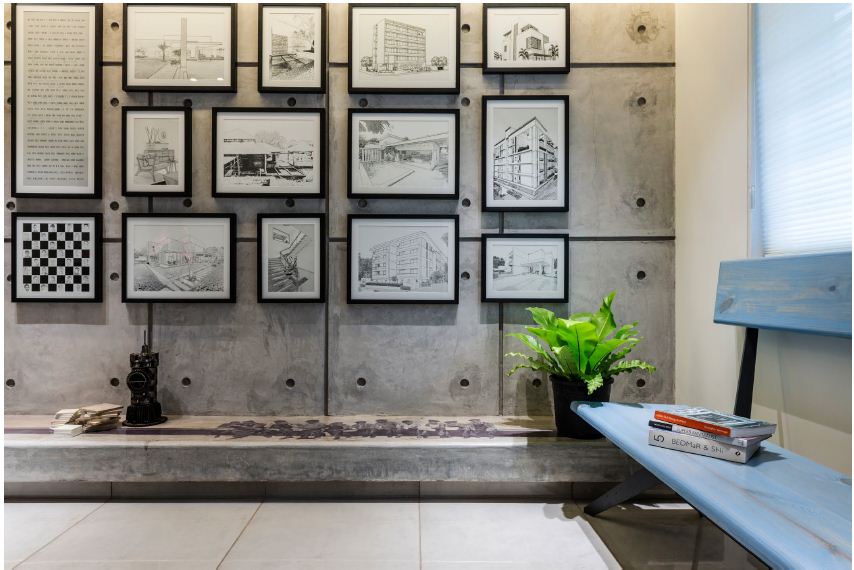 A visually and virtually connected office space, the design focuses on creating volumes making it a whole one big workspace. The staircase leads to the upper floor passage connecting the main cabin, conference room, and lounge area. The staff lounge on a lower level, having exposed concrete walls which are painted with info-graphics related to construction works to make space lively.
Fact File:
Design Firm: Usine Studio
Photographer: Photographix India
Area: 1850 sq. ft.
Location: Vadodara, India
11. P&D Associates – Tapiyawala Associates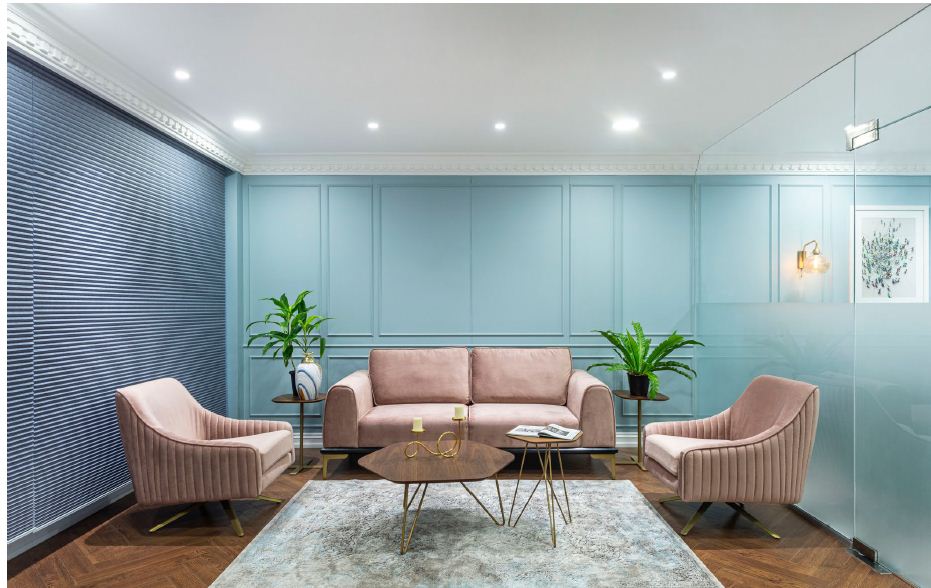 Colour story of this particular project is inspired by the winter colours. In the reception area, to break the colour story, a set of two paintings is taken which adds a stark and dramatic character to space. A play of turquoise, green and solid grey with pops of brass finish, forms the minimal colour palette, while the subdued flooring patterns, provide a subtle class to space. The overall feel of the office is kept alluring with soothing colour palette to create a Zen ambiance.
Fact File:
Design Firm: P&D Associates
Photographer: Photographix India
Area: 745 sq. ft.
Location: Bharuch, India
12. Mulev Associates – Artistic Workzone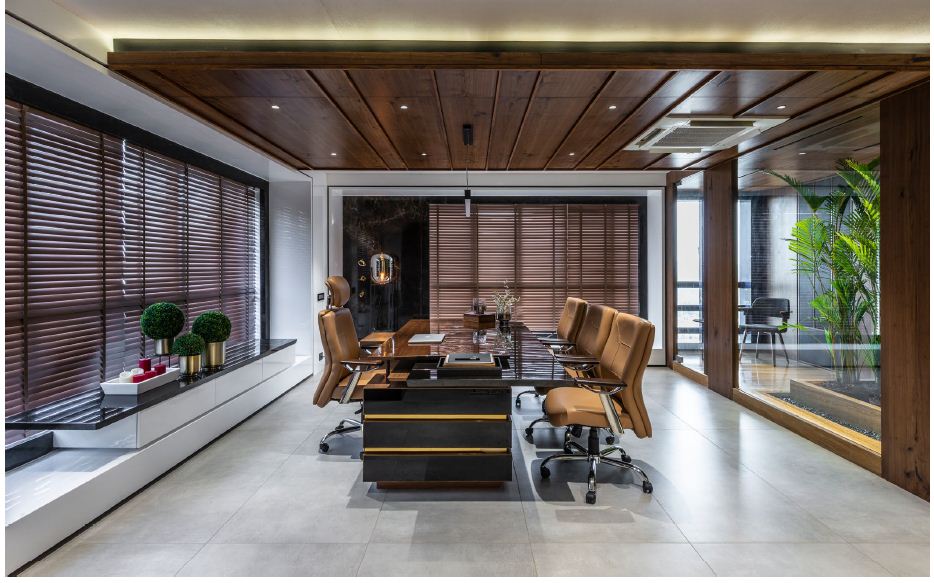 A stylish and effective work ambiance was achieved through meticulous planning and the use of unique materials. The intent was to create an easy on maintenance work environment, rich in a functional luxury infused with artistic narratives. The concept was to create an elegant interior, rich in modern luxe charm, which was achieved through grouping spaces and working around the functions with keen detailing.
Fact File:
Design Firm: Mulev Associates
Photographer: Photographix India
Area: 2100 sq. ft.
Location: Ahmedabad, India
13. Curious Case Of Design (CCOD) – Grundfos Pumps Office Interiors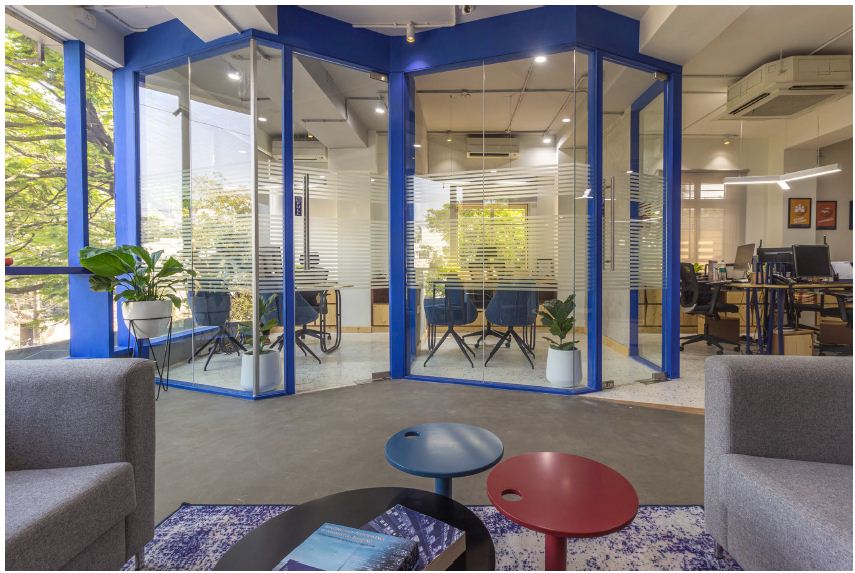 The office space where angular form from the cabin also continues through the following, which is the slightest indication of seamless change in the functionality of the space from work area to passage, in this small office. A bigger conference room in divided into smaller discussion space bay a large customized sliding-folding door. Two individual tables in the discussion room join into a large 12 feet long table for conference set up.
Fact File:
Design Firm: Curious Case Of Design (CCOD)
Photographer: Nandan Nagarad
Area: 1900 sq. ft.
Location: Bengaluru, India
14. Mind Manifestation – Pre-School Office
The approach here is the same with a playful fun place to arrange a few workstations with a variety of sitting possibilities and come up with the desired outcome. Surrounded by a busy area, the pre-school is standing in between Tech park on one side and a famous eatery on the other. The site was blessed with an ample amount of natural light which is used copiously in the project. the design converted the rooftop into a perennial space.
Fact File:
Design Firm: Mind Manifestation
Photographer: Hemant Patil
Area: 850 sq. ft.
Location: Pune, India
15. Akash Architects – M1 Polymers Offices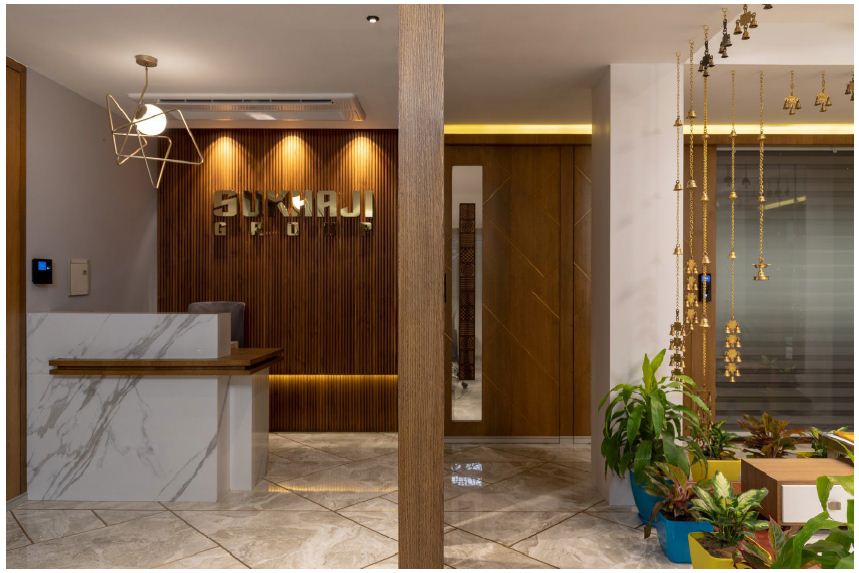 To come up with a proactive as well as a creative solution for accommodating so many sections in a limited floor area was the biggest challenge for the designers. The office space created can make the workers passionate about everyday working scenarios. the conventional style of architecture used here develops the basic sense of working in peace and collaboration while enjoying simplicity.
Fact File:
Design Firm: Akash Architects
Photographer: Prachi Khasgiwala
Area: 1350 sq. ft.
Location: Surat, India
16. Studio Untitled – Design Studio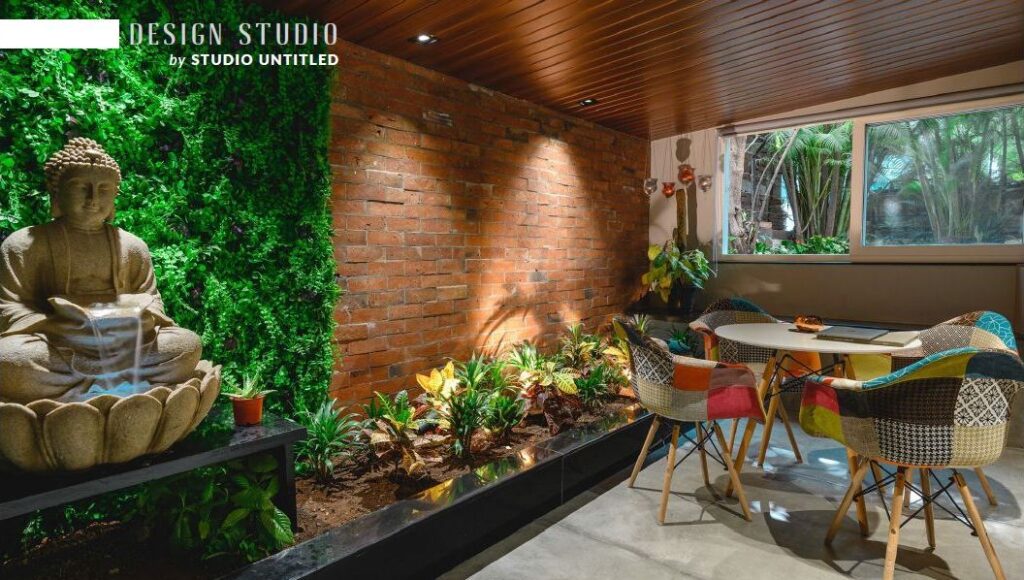 The studio is located on the ground floor of a bungalow in an area that was initially dedicated to car parking. The main issue was to bring the natural light into space wherein no provision was initially given. The designers studied the sun-path and tracked the sun's movements for a few days and devised proper openings for the light to come in during the day.
Fact File:
Design Firm: Studio Untitled
Photographer: The Fishy Project
Area: 800 sq. ft.
Location: Pune, India
17. Ketaki Poonawala Designs – The Banyan tree Offices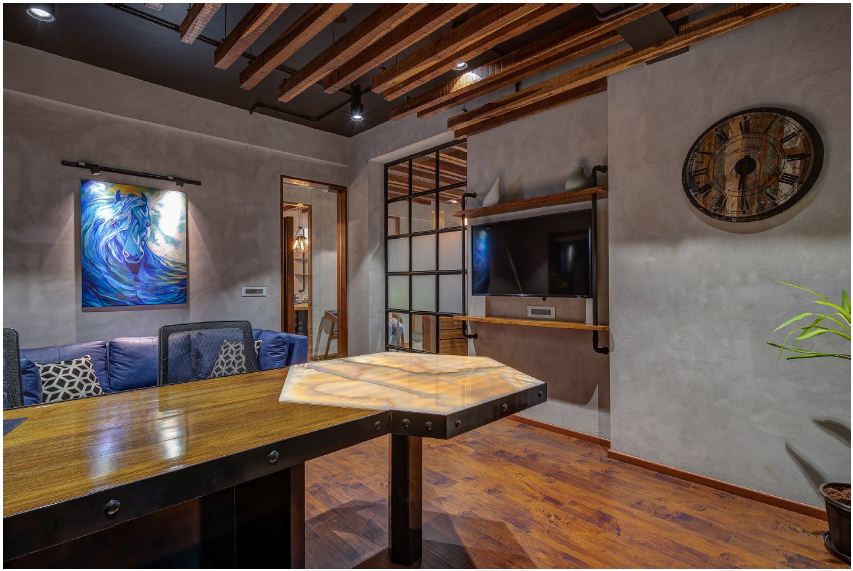 Being located in the bustling locality of Pune, the office cuts off the chaos and gives a serene and quiet feel to the users and visitors and the participation of the carefully chosen plants in the flower beds cannot be missed out. This space was created to lend a slightly off-beat approach to the traditional developer's office design and decor to set an experience of its kind to the users as well as the visitors.
Fact File:
Design Firm: Ketaki Poonawala Designs
Photographer: Taher Husain K
Area: 1075 sq. ft.
Location: Pune, India
18. Meraki Architecture – Meraki Architecture Office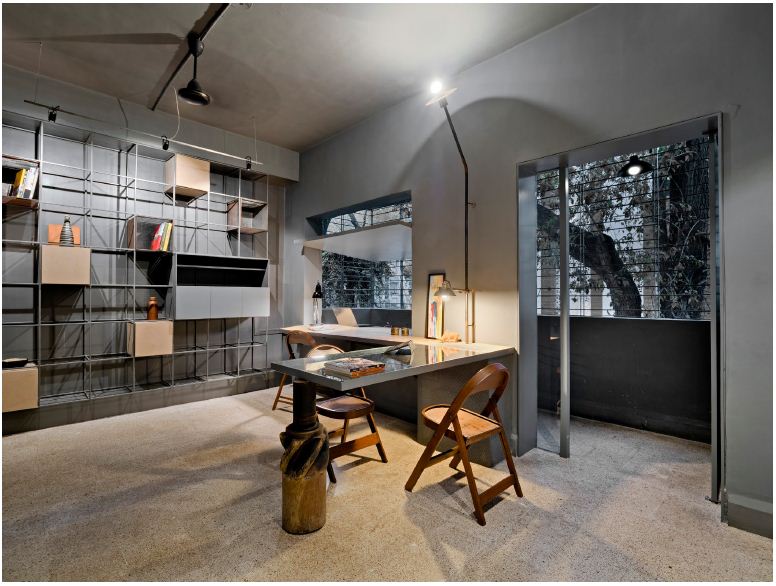 The design focuses on the creative use of a combination of recycled materials like agro wood and MS sheets, refurbished wooden chairs, light fixtures, and more to blend in the rustic and contemporary styles while maintaining the robust look and feel despite it. The designer wanted to create a space that extracts the best performance from those within it by consciously activating the sense to absorb and respond to everything around it, devoid of hierarchy.
Fact File:
Design Firm: Meraki Architecture
Photographer: Hemant Patil
Area: 350 sq. ft.
Location: Pune, India
19. Chitte Architects – De Caves Studio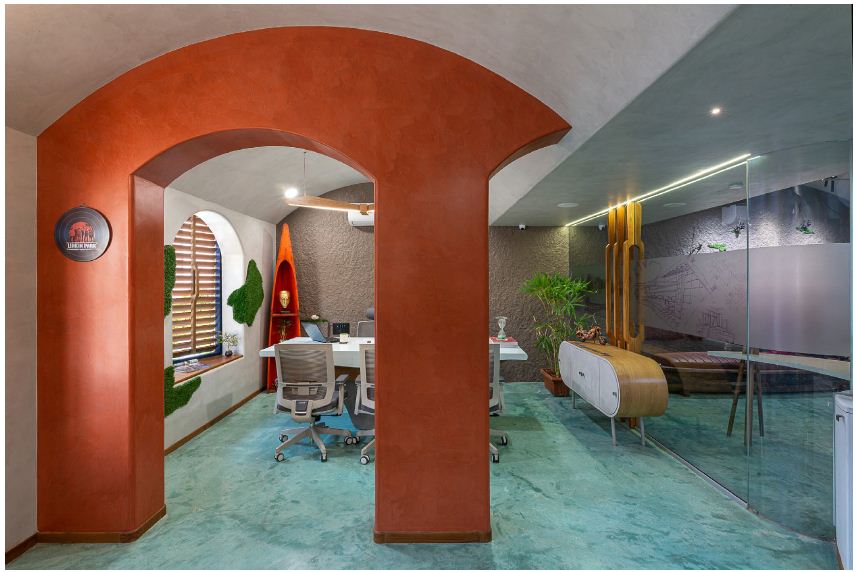 Caves have always known to be a place of peace and quiet. Monks in the days of yore first started to sculpt man-made caves when in search of a place of solitude and seclusion. They were places of calm and quiet and restricted the outside chaos. The concept has been inspired by this and tried to achieve something similar in the midst of disorderly surroundings, a place of calm and a conducive creative atmosphere.
Fact File:
Design Firm: Chitte Architects
Photographer: Photographix India
Area: 2000 sq. ft.
Location: Vadodara, India
20. K Design Studio – The Green Door
The bold use of colours comes through the furniture, beams, doors, and cabinets providing an interesting definition of space. Usage of Moroccan patterned tiles creating a pathway along with the wooden flooring giving a different dimension to the place and blending so well with other design elements. The exterior elevation of the building goes hand in hand with the interior of the space by using pine wood cladding and glass giving it a very natural and fresh look. The large teak wood table as the centerpiece adds rough rustic look to the room and is a growing trend in the UK with companies like Homes Direct 365 offering whole ranges of teak and driftwood furniture as the up-cycling trend takes off.
Fact File:
Design Firm: K Design Studio
Photographer: Inclined Studio
Area: 3800 sq. ft.
Location: Hyderabad, India
Small Office Interior spaces give major inspirations of small space designs which could be interpreted even at home office spaces. Such designs break the regularity and generate possibilities of space design through a different perspective.
The small office interior design landscape in India has transformed from mundane cubicles to dynamic and engaging spaces. Businesses are recognizing that an inspiring work environment can lead to enhanced productivity and creativity among employees.
2. Incorporating Minimalism for Efficient Spaces
Minimalistic designs are gaining popularity as they maximize space utilization. Clean lines, clutter-free zones, and multi-purpose furniture contribute to an organized and efficient workspace.
3. Embracing Vibrant Colors and Cultural Elements
Office designs are reflecting India's rich cultural heritage with vibrant colors and traditional motifs. This not only adds aesthetic value but also instills a sense of belonging among employees.
4. Furniture that Combines Aesthetics and Functionality
Furniture is no longer just utilitarian; it's a statement piece. Ergonomic chairs, adjustable desks, and collaborative seating arrangements foster comfort and collaboration.
5. Harnessing Natural Light and Greenery
Bringing the outdoors in has become a hallmark of modern office design. Ample natural light and indoor plants create a refreshing and invigorating atmosphere.
6. Ergonomics and Employee Well-being
Prioritizing employee well-being through ergonomic designs reduces discomfort and boosts productivity. Standing desks, comfortable seating, and proper lighting are integral aspects.
7. Innovative Storage Solutions
Smart storage solutions like hidden cabinets, vertical shelving, and under-desk storage help maintain a clutter-free workspace.
8. Open vs. Closed Layouts: Finding the Balance
The debate between open and closed office layouts continues. Striking the right balance between collaborative spaces and private nooks is crucial for a harmonious work environment.
9. Tech-Integrated Work Environments
Integrating technology seamlessly into the workspace enhances efficiency. Wireless charging points, smart boards, and video conferencing facilities are becoming the norm.
10. Creating Collaborative Zones
Collaboration fuels innovation. Designated collaborative zones with comfortable seating and brainstorming areas encourage idea exchange among employees.
11. Hybrid Workspaces for Flexibility
The concept of hybrid workspaces accommodates both in-person and remote work. Adaptable furniture and technology ensure a seamless transition between the two modes.
12. Personalizing Workstations
Allowing employees to personalize their workstations fosters a sense of ownership. Customizable desks and wall spaces reflect individuality.
13. Sustainable and Eco-Friendly Designs
Sustainability is a growing concern. Recycled materials, energy-efficient lighting, and green construction practices contribute to a greener office space.
14. Inclusivity in Office Design
Office designs are embracing inclusivity with features like ramps, wider aisles, and accessible furniture, ensuring that the workspace caters to everyone.
15. Conclusion
Small office interior designs in India are witnessing a revolution. The fusion of aesthetics, functionality, and employee well-being is shaping workspaces that inspire and drive success.
FAQs
Q1: What is the significance of minimalism in small office designs?
Minimalism optimizes space, reduces clutter, and promotes a clean and organized atmosphere, enhancing overall efficiency.
Q2: How can I incorporate my company's culture into the office design?
Integrate elements of your company's values and culture through color schemes, artwork, and design motifs that resonate with your brand identity.
Q3: What role does natural light play in office productivity?
Natural light enhances mood, reduces eye strain, and promotes a healthier work environment, leading to increased employee productivity.
Q4: Are open office layouts better than closed layouts?
Both layouts have their merits. Open layouts encourage collaboration, while closed layouts provide privacy for focused tasks. A balanced approach is often preferred.
Q5: How can I make my office design more sustainable?
Incorporate eco-friendly materials, energy-efficient appliances, and sustainable practices like recycling to create a more environmentally responsible workspace.
As an architecture and interior designer, I am passionate about creating spaces that inspire and delight those who inhabit them. With over a decade of experience in the industry, I have honed my skills in both the technical aspects of design and the art of crafting beautiful, functional spaces.
After earning my degree in architecture, I began my career working for a prestigious firm where I was exposed to a wide range of projects, from commercial buildings to high-end residential properties. During this time, I developed a keen eye for detail and a deep appreciation for the importance of form and function in design.
In recent years, I have struck out on my own, founding my own design studio where I have been able to further explore my passion for interior design. I believe that a well-designed space can transform the way people live and work, and I take pride in working closely with clients to understand their needs and create spaces that exceed their expectations.
Throughout my career, I have been recognized for my innovative and creative approach to design, and have been honored with a number of awards and accolades. When I'm not working on design projects, you can find me exploring the outdoors or seeking inspiration in the world around me.