In a country as diverse as India, where land scarcity is a prevalent issue, small house designs have become a necessity that marries functionality and aesthetics. These designs not only make the best use of limited space but also reflect the cultural and regional nuances that define the Indian way of living. Let's delve into the world of small house design in India, exploring its various aspects, challenges, and innovative solutions.
When we talk about small house design, a picture of comfortable living, a cozy corner, and a welcoming environment is drawn in our heads. In India, the small house design trends are leaning towards environment-friendly homes. From inheriting natural light through any medium during the day to focusing on open planning, the simple abode of light and ventilation are examples of a comfortable lifestyle.
The take of designers on small house design is more towards using varied materials with a minimalist approach. The planning of the house in a smaller plot area is considered a challenging factor for the architects. The small house design focuses on residences with the 5000 sq. ft. or lesser area. Modenese Interiors To fit all the desired requirements and yet create a beautiful milieu is what the small house design is about.
There is nothing like classical roofing shingles or tiles in this design.
Elevating the trends of the small house design into functional and aesthetically pleasing homes, some of the firms who have worked extensively towards the very approach are:
Visit >> Khyber City
1. Between Spaces – Cuckoo's Nest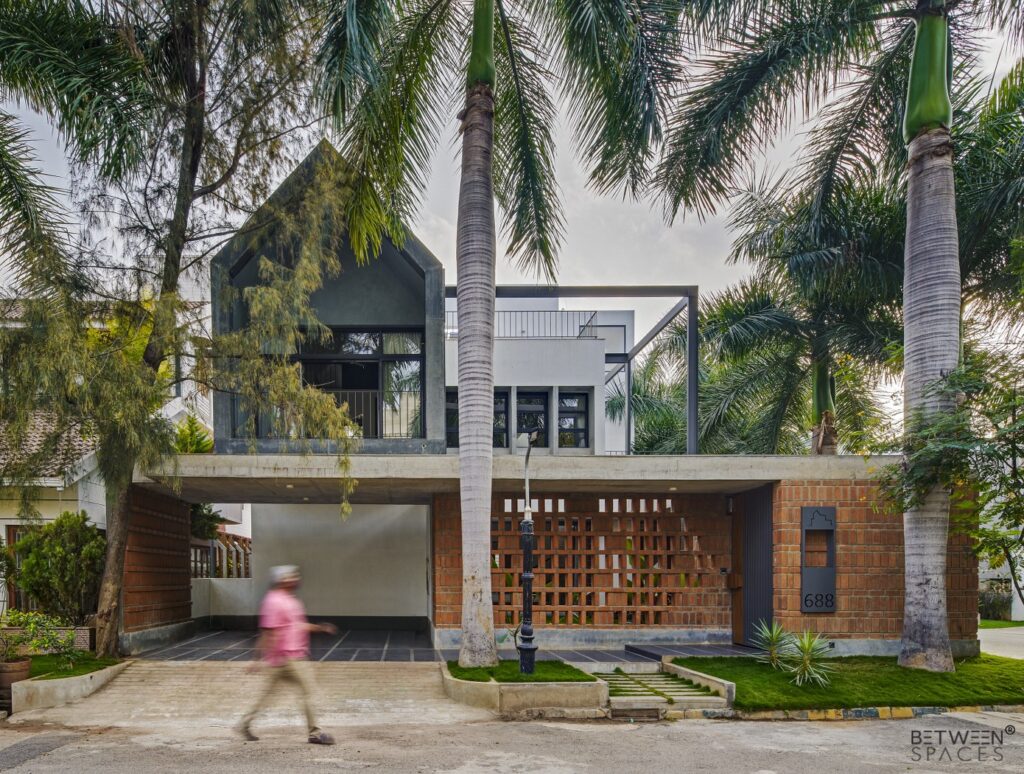 Cuckoo's Nest is built on a corner plot measuring with roads on the western and northern edge in a gated layout and surrounded by a silver oak tree and some palm trees. The brief was a small house design that is simple, pragmatic, and modern for aging parents of the owners, the owners themselves, and their two sons. The entire narrative of this house is constructed around the idea of playfulness and pragmatism.
Fact File:
Design Firm: Between Spaces
Photographer: Shamanth J patil
Area: 313.5 sq. mt.
Location: Bangalore, Karnataka, India
2. Meister Varma Architects – Maison Kochi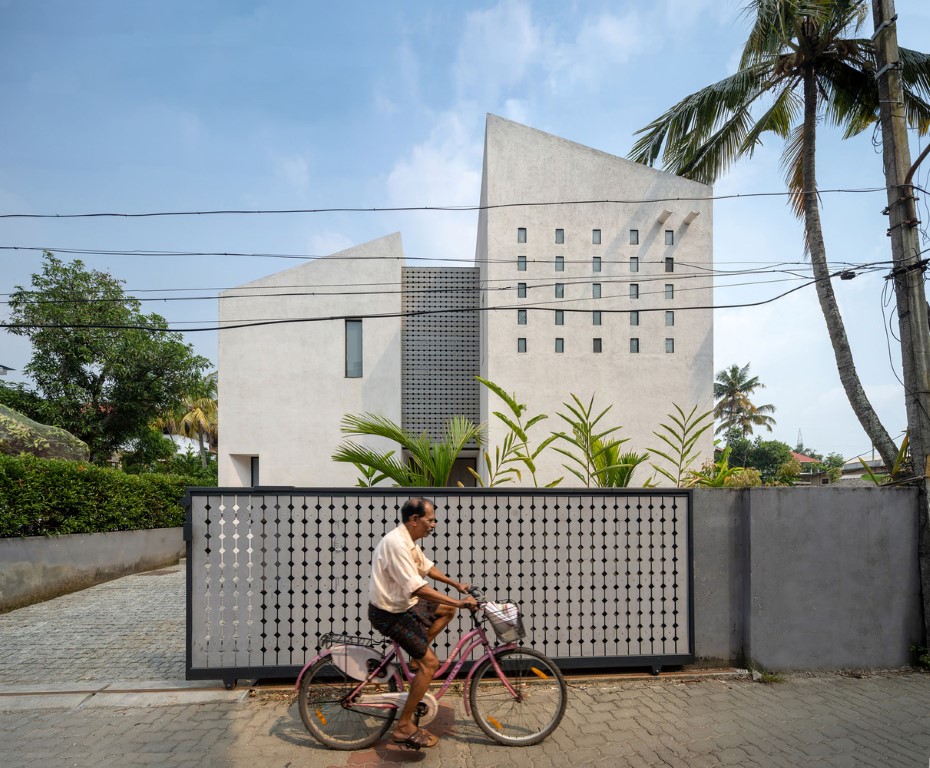 An open-plan arrangement of this small house design on both floors makes the interior spaces blend into each other seamlessly. Wall-to-ceiling windows enhance this flow as does the continuous black oxide floor. Windows are designed in steel and doors use bison board paneling. Bathrooms are finished in colorful ferrous oxide with lamps and counters cast in place.
Fact File:
Design Firm: Meister Varma Architects
Photographer: Praveen Mohandas, Govind Nair
Area: 1700 sq. ft.
Location: Kochi, Kerala, India
3. Atelier Shantanu Autade – Tube Well House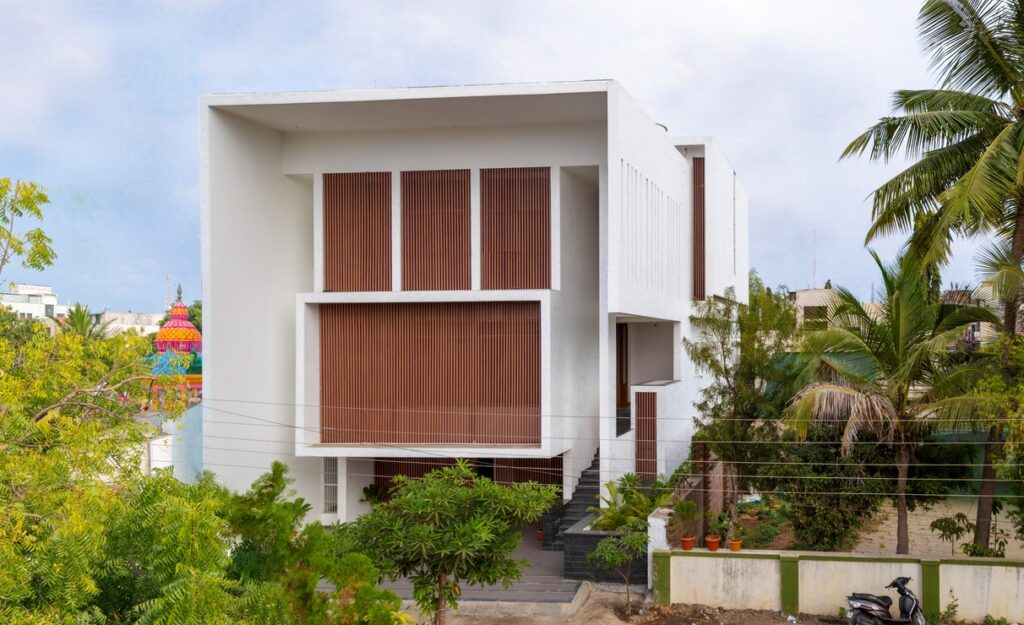 The front Façade facing west is articulated to create a gesture like Indian Havelis. Graticule windows, projecting lattice boxes and large overhangs reduce surface temperature and regulate wind flow. Speaking about the structure, the Grandeur of the entrance is announced by the upright volume, created by a presence of a slender column and long a cantilevered wall.
Fact File:
Design Firm: Atelier Shantanu Autade
Photographer: Kartik Ail
Area: 400 sq. ft.
Location: Ambajogai, Maharashtra, India
4. Manoj Patel Design Studio – Clay Screen House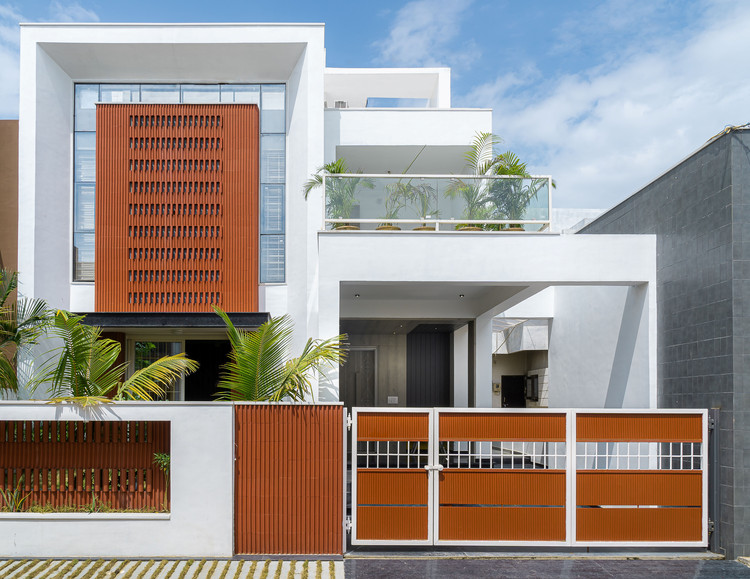 The entire volume of the dwelling also replicates the pattern in the compound wall and entrance gate. The double V-shaped clay tiles, used as a vernacular material, were transformed into an appealing element for the east-facing façade design. The clay tiles are centrally placed tilt at an angle in series, where the grid pattern casts a shadow on one another, by keeping the interior cool and reducing temperature.
Fact File:
Design Firm: Manoj Patel Design Studio
Photographer: Darshan Dave
Area: 2690.98 sq. ft.
Location: Vadodara, Gujarat, India
5. Srijit Srinivas-ARCHITECTS – White Skube House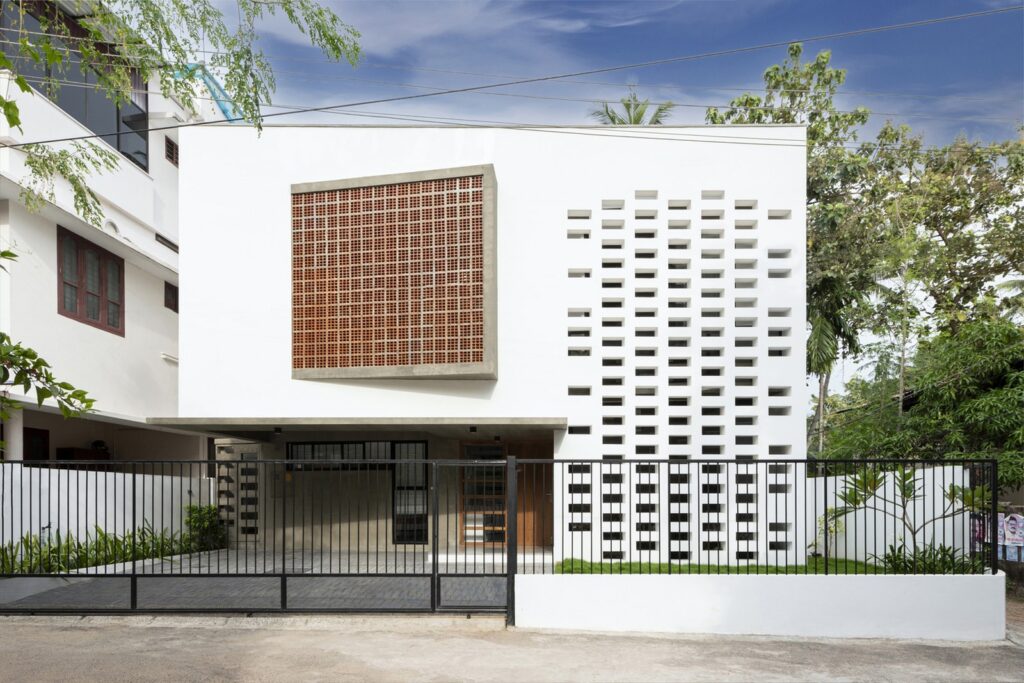 The skewed shape of the restricted plot footprint organically allowed for a skewed cuboid form to emerge. This small house design was presciently painted in white to augment the sereneness of the morphed platonic form – highlighted as it were by the pandemonium of its busy surrounding neighborhood. The functional requirements for the tight site were particularly challenging and consisted of a car porch to house two vehicles, living and dining spaces, kitchen and attached work area, four bedrooms with en-suite bathrooms, as well as a family rumpus room on the upper floor.
Fact File:
Design Firm: Srijit Srinivas-ARCHITECTS
Photographer: Justin Sebastian Photography
Area: 232 sq. mt.
Location: Thiruvananthapuram, Kerala, India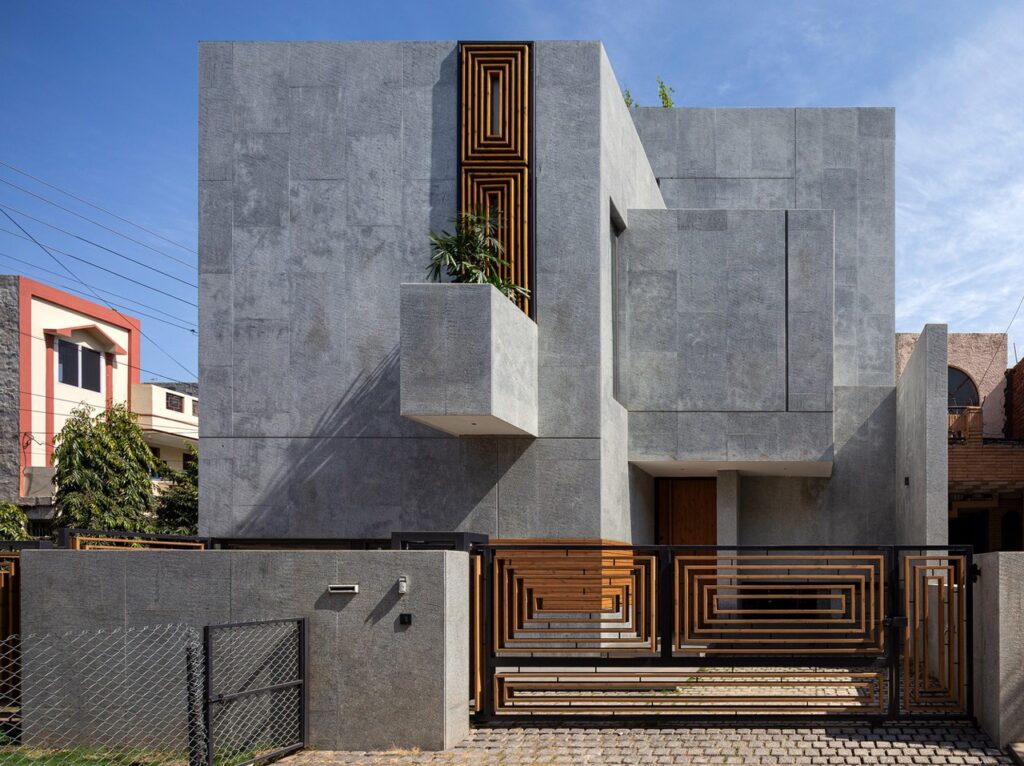 To achieve a quiet and peaceful living environment, the small house design, therefore, is conceived with an inward-looking spatial arrangement. The exterior of the house is a composition of solid granite cuboids and wooden jaalis that not only create a perforated skin between the courtyard and the outdoor neighborhood but also create a warm contrast softening the blocking. The wooden jaalis, an introvert pattern complementing the design of the residence, characterize the façades of the residence while adding an element of playfulness to the structure.
Fact File:
Design Firm: Arch. Lab
Photographer: Purnesh Dev Nikhanj
Area: 3130 sq. ft.
Location: Panchkula, Haryana, India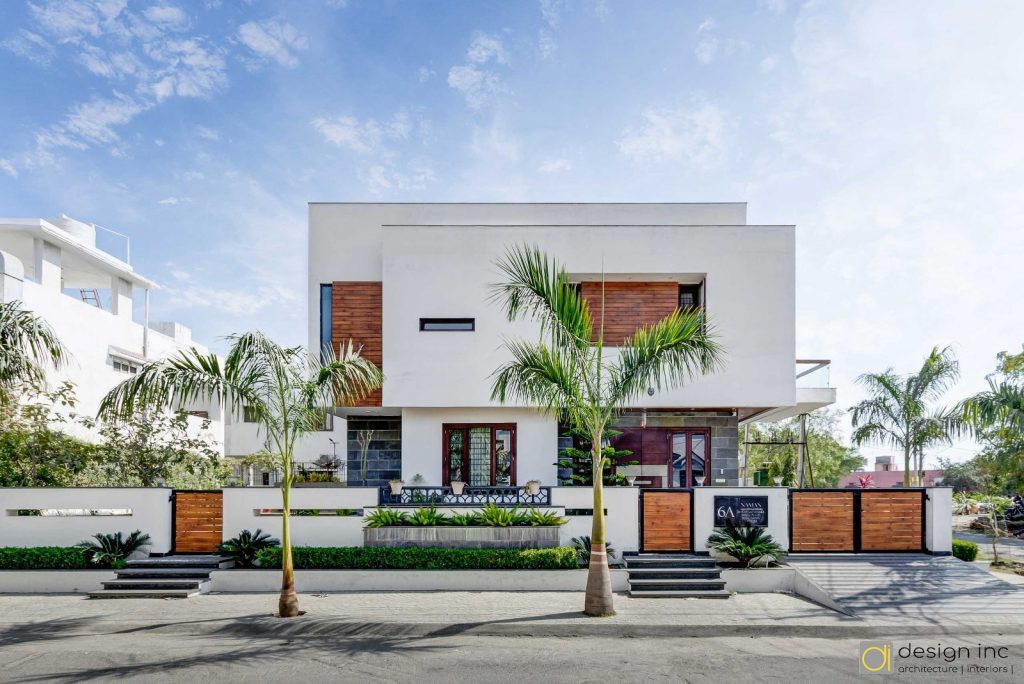 The architecture of this small house design is driven by straight lines, cohered with striking contrast played by whites and browns. The bungalow forms a landmark of the lane, being stationed on a corner, therefore flanked by road on one side and open landscape court on the other, embarking its exclusivity. Because of the soothing exterior, the house appears to be completely in harmony with the surroundings, making the building off-site.
Fact File:
Design Firm: Design Inc.
Photographer: Pratik Chandresha
Area: 4000 sq. ft.
Location: Udaipur, Rajasthan, India
8. Finder Studio – Kecheriyile Veedu
Traditional Kerala homes are rich in memories; of the long-forgotten smell of the first rain, the sound of raindrops falling in the courtyard, people sitting and conversing around it, the feeling of the warmth of mud walls and wood, the coziness of spaces; one may find him or herself drifting into their nostalgic memories of yesteryears every once in a while. 'Kecheriyile Veedu' is an attempt at recalling these memories. As a small house design for an elderly couple enjoying their retirement, all the spaces are limited to a single floor, easing their movement within the house.
Fact File:
Design Firm: Finder Studio
Photographer: Prasanth Mohan
Area: 1520 sq. ft.
Location: Eranellur, Kerala, India
9. Alok Kothari Architects – The Brick Abode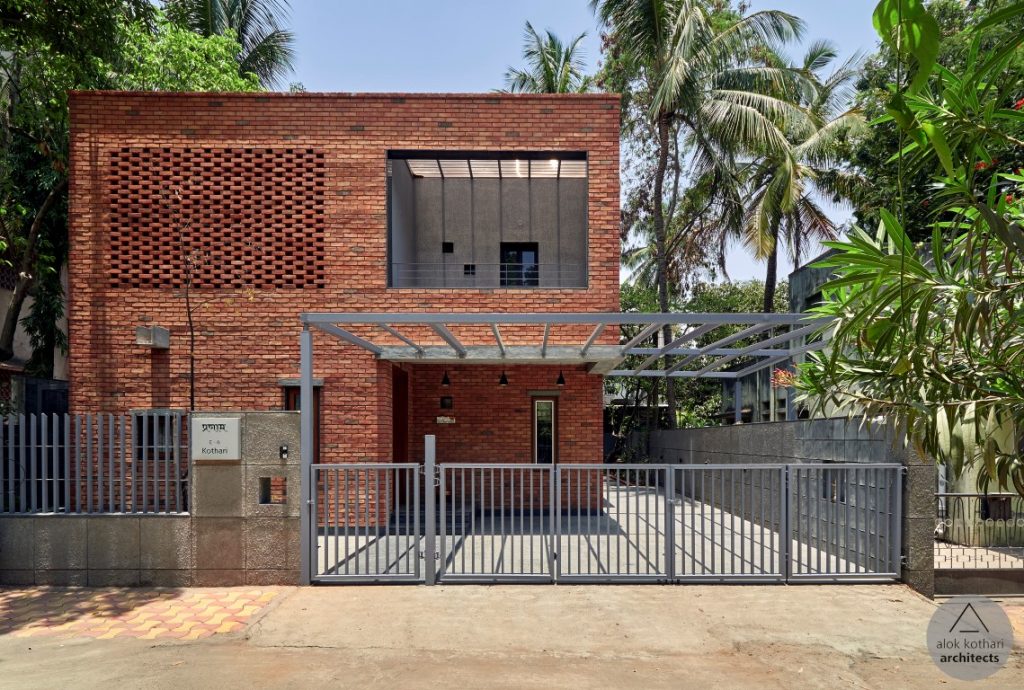 We decided to anchor all the spaces in the small house design to a central 'sky light' which will draw in light during the entire day in the house. Also, having large windows in all the rooms was the logical way forward. The larger planning principle used was to divide the house into 2 functional zones – one for the private spaces & the other for the public spaces – along the north-south axis and according to Vastu shastra norms.
Fact File:
Design Firm: Alok Kothari Architects
Photographer: Mr. Hemant A. Patil
Area: 2600 sq. ft.
Location: Pune, Maharashtra, India
10. Greyscale Design Studio – Brickly Affair Residence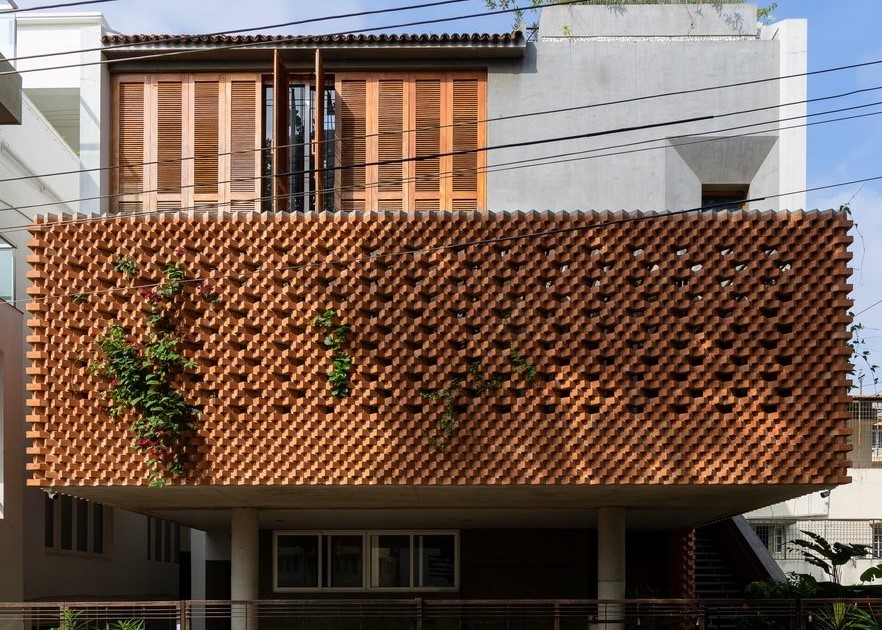 It was a joy to design for interactive clients who come with a design view and vision on how they want their abode to feel. They wanted the language of the rawness of material to speak in their residence. Emphasis has been to bring about maximum beauty of every raw material used and let it speak. The diagonally placed brick structure forms the façade of the house. This not only creates a beautiful fascia but also helps bring the out inside this small house design during the day and showcases the play of inside light at night.
Fact File:
Design Firm: Greyscale Design Studio
Photographer: Anand Jaju
Area: 3500 sq. ft.
Location: Bangalore, Karnataka, India
11. Spacefiction Studio – Soul Garden House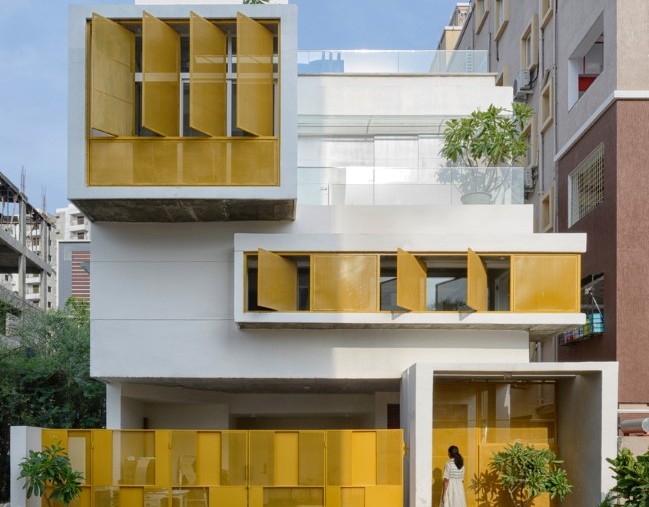 A Large requirement on such a small plot called for an introverted solution with a garden at the center, around which the rest of the spaces will function. This garden's small house design was lifted up to accommodate parking, a room for domestic help, and a games room on the stilt floor. An extra room was added on the terrace for guests. The central double-height court is covered with mild steel, with laser-cut perforations; parametrically designed to create privacy. The perforations are smaller where the adjacent building has an opening looking into the court and larger, where the building has a blank wall.
Fact File:
Design Firm: Spacefiction Studio
Photographer: Monika Sathe Photography
Area: 3900 sq. ft.
Location: Hyderabad, Telangana, India
12. Ghoricha Associate – Sacrlet House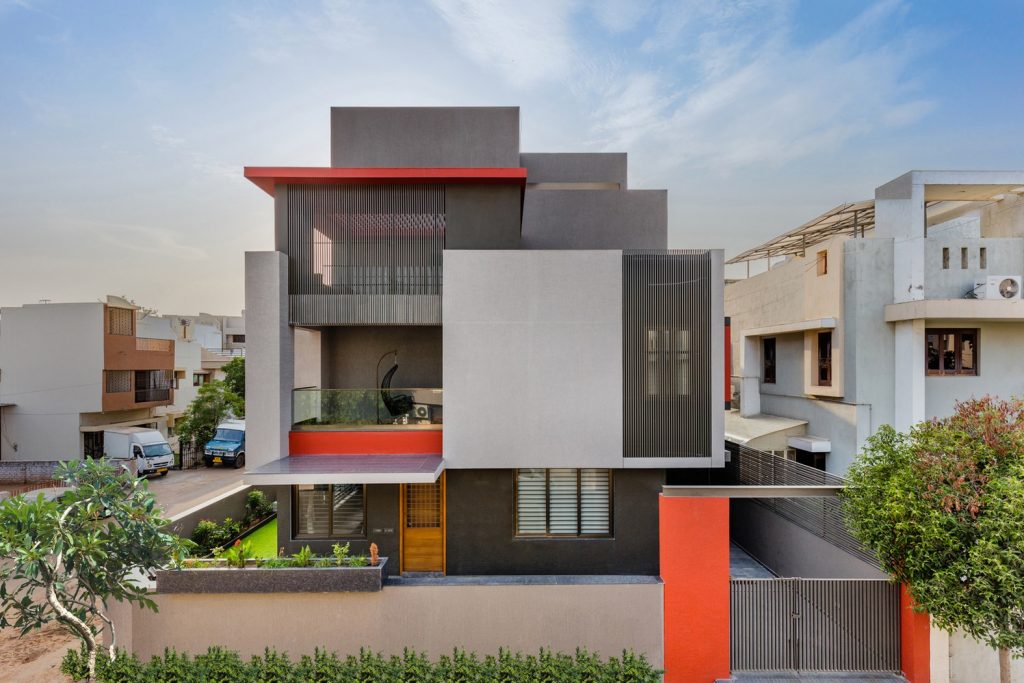 The project demanded a certain language that would reflect the likings and living style of the family. For concept and visualization, the designers started by questioning, 'in what lies the essence of a home', and in doing so, developed a project that is unique and has a distinct design language. The client's ideologies and the designers' conception found common grounds over luxurious settings involving pertinent elements. Every space is translated towards this vision and functionality towards individuals.
Fact File:
Design Firm: Ghoricha Associate
Photographer: Inclined Studio
Area: 4760 sq. mt.
Location: Gandhinagar, Gujarat, India
13. Crest Architecture – Framed House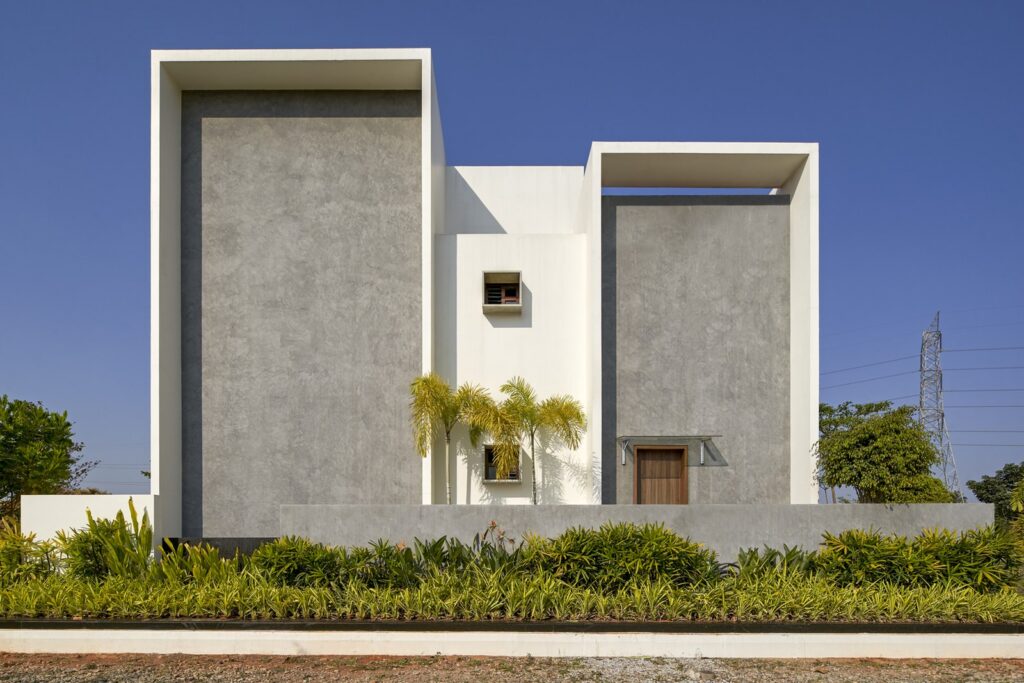 Located within a gated community in North Bangalore, the square-shaped plot of this residence abuts the road on the southern and western sides. Based on the client's requirements, our approach was to design a modest house with a specific emphasis on natural light and ventilation. The small house design process and choice of materials for construction were influenced by a cost-effective budget.
Fact File:
Design Firm: Crest Architecture
Photographer: Shamanth Patil J
Area: 2300 sq. ft.
Location: Bangalore, Karnataka, India
14. New Dimension – Kotia's house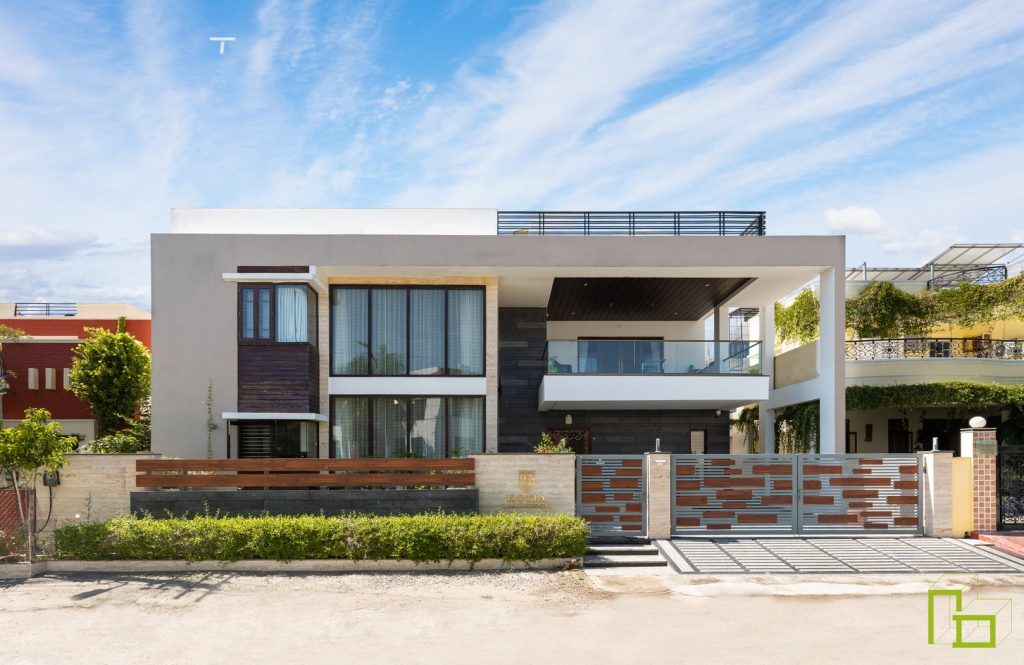 A house that has to be minimal yet experiential and should reflect on the clients' lifestyle. So the plan not only fulfills his complete requirements but also gives a lavish feeling. A double-height entrance on the northeast as per climatology and Vastu. A largely clad travertine marble wall beside the main door welcomes you into this plush home. The ground floor has a front kitchen with a corner window towards the main gate. A double-height living hall planed near the lawn gives a seamless and refreshing environment.
Fact File:
Design Firm: New Dimension
Area: 4000 sq. ft.
Location: Udaipur Rajasthan, India
15. STO.M.P – House In A Grove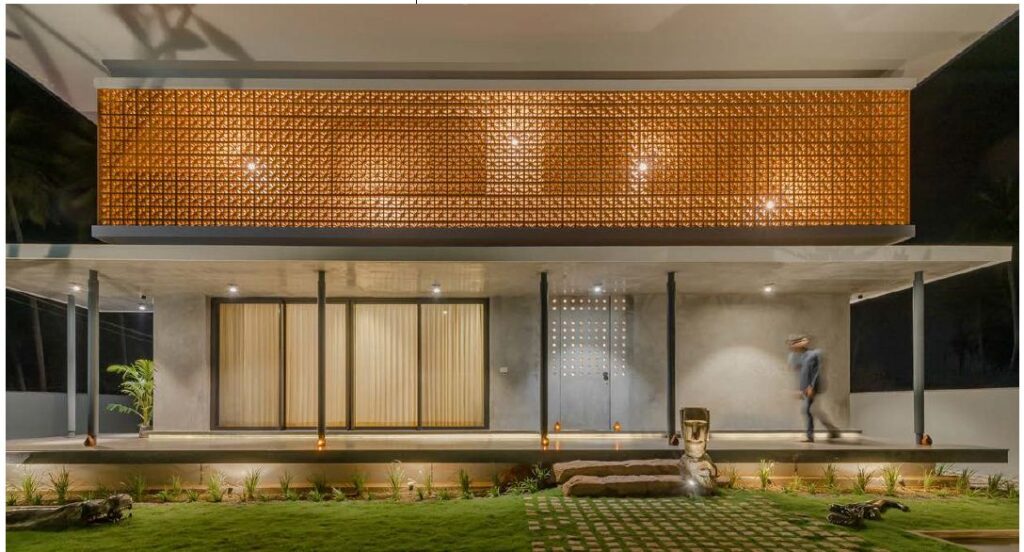 To combat solar radiation and facilitate cross ventilation, the architects developed a façade skin of terracotta jaalis, that thermally insulates and keeps the spaces ventilated with natural light. Two major light-wells, façade jaalis and skylights engage the interiors in a constant cavort of light and shadow. The lounge on the first floor made of filler slab, witnesses the play of light and shadows at sunrise, accelerated by the terra-jaalis and skylights endows a fleeting and shifting quality to the interiors through time.
Fact File:
Design Firm: STO.M.P
Photographer: Prithvi M Samy, Balaji Pandiyan
Area: 3928 sq. ft.
Location: Tirupattur, Tamil Nadu, India
16. Anahata – Padival House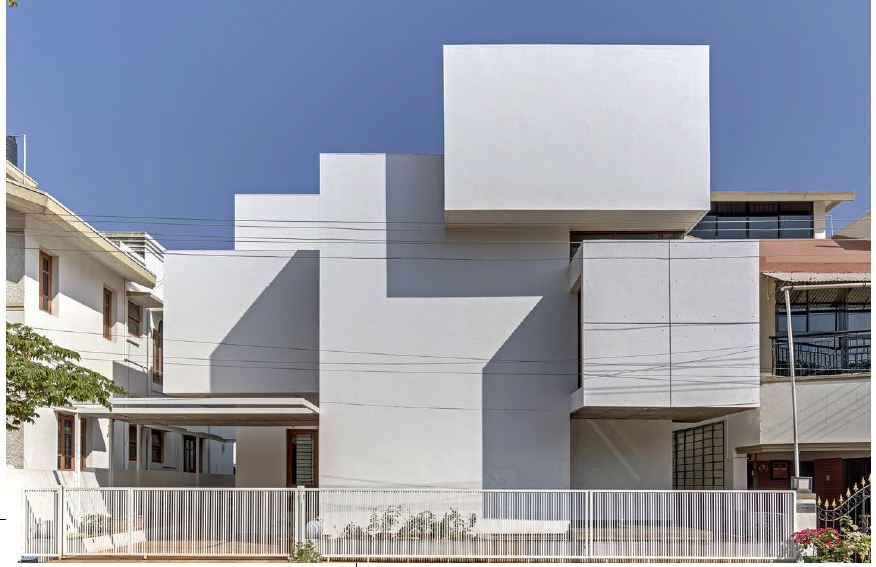 The entrance lobby leads to the courtyard on one side and the living space on the other. The living space, a floor height of the one-and-a-half storey, diminishes to single-storey height as it flows into the courtyard and thus resulting in a Library space on the first floor which looks into the courtyard on one side and the living space on the other. The transition from the living to other private functions of the house is through the well-lit dining area. The river finish tandoor flooring seamlessly connects the living and dining spaces to the courtyard.
Fact File:
Design Firm: Anahata
Photographer: Shamanth Patil J
Area: 2290 sq. ft.
Location: Belagavi, Karnataka, India
17. TRAANSPACE – The Box House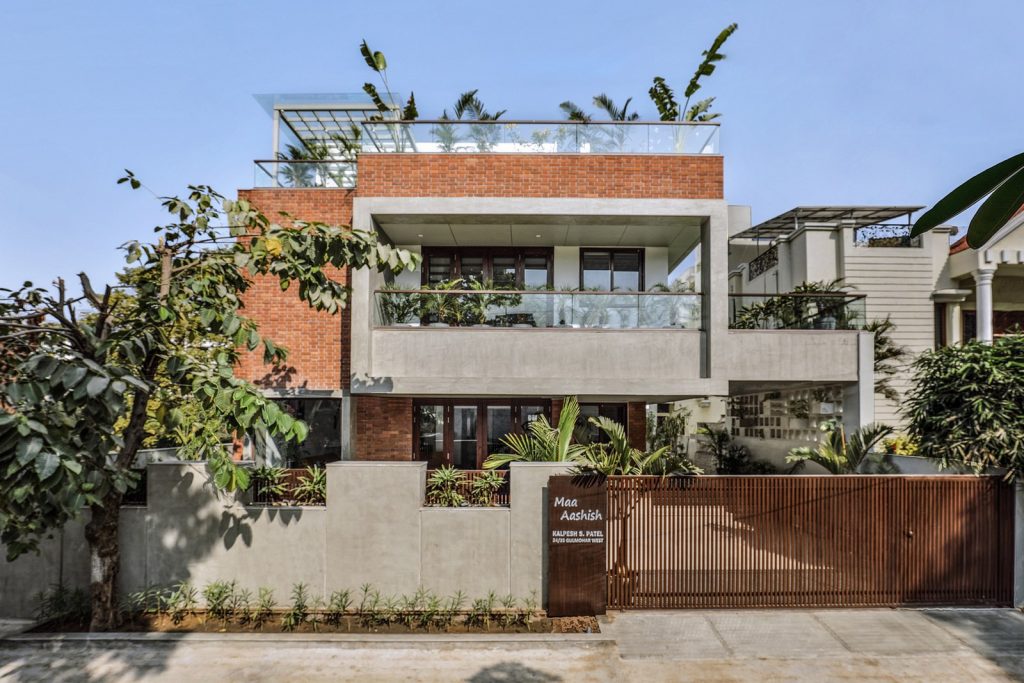 The House is located in a gated community surrounded by bungalows on adjoining sides and access way only on the south. The client wanted the small house design to be outlined for a family of four. Having lived in a very utilitarian house until now, they desired a shift to a house closer to nature. Expecting the design to be very functional they at the same time believed in maximalism. Developing a concept which responds to the context and the client brief has been a journey for us.
Fact File:
Design Firm: TRAANSPACE
Photographer: Tejas Shah Photography
Area: 4800 sq. ft.
Location: Vadodara, Gujarat, India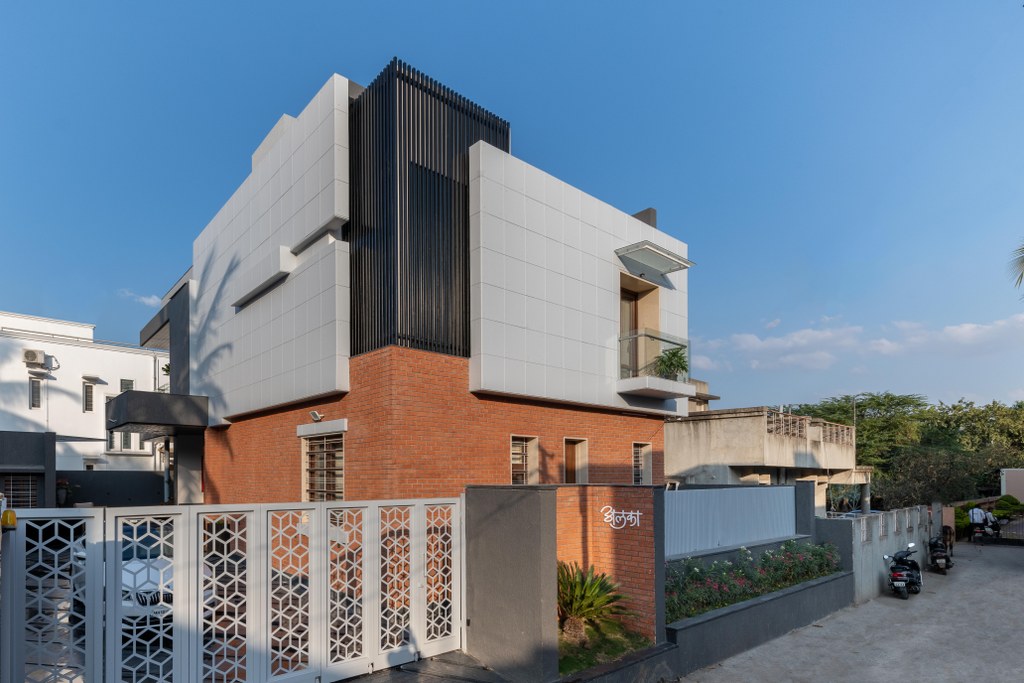 The luxurious and earthy villa is home to some fascinating new trends, smart concepts, mood lighting, and above all, a feeling of joy, happiness, and warmth for the family. The use of walnut wood, earthy tones, natural materials, and soft harmonic color palettes gives the villa a warm and welcoming look. Inara – the villa's unique concept focuses on reinventing and discovering the magic of light in our homes.
Fact File:
Design Firm: Utopia
Photographer: PHX India
Area: 3500 sq. ft.
Location: Ahmednagar, Maharashtra, India
19. Parshwa Architects – Residence of Rajesh Chajed
A cubical volume cast in concrete and brick red walls highlights the residence as one passes by this small house design. Since the nearby houses are majorly g+1 structures, and the house sits in a lane distant from the main road, it experiences a serene environment. The site is free from vehicular noises, dust, and traffic.
Fact File:
Design Firm: Parshwa Architects
Photographer: Rishikesh Bhandare
Area: 2900 sq. ft.
Location: Satara, Maharashtra, India
20. Ocube Architects – Kedia's Residence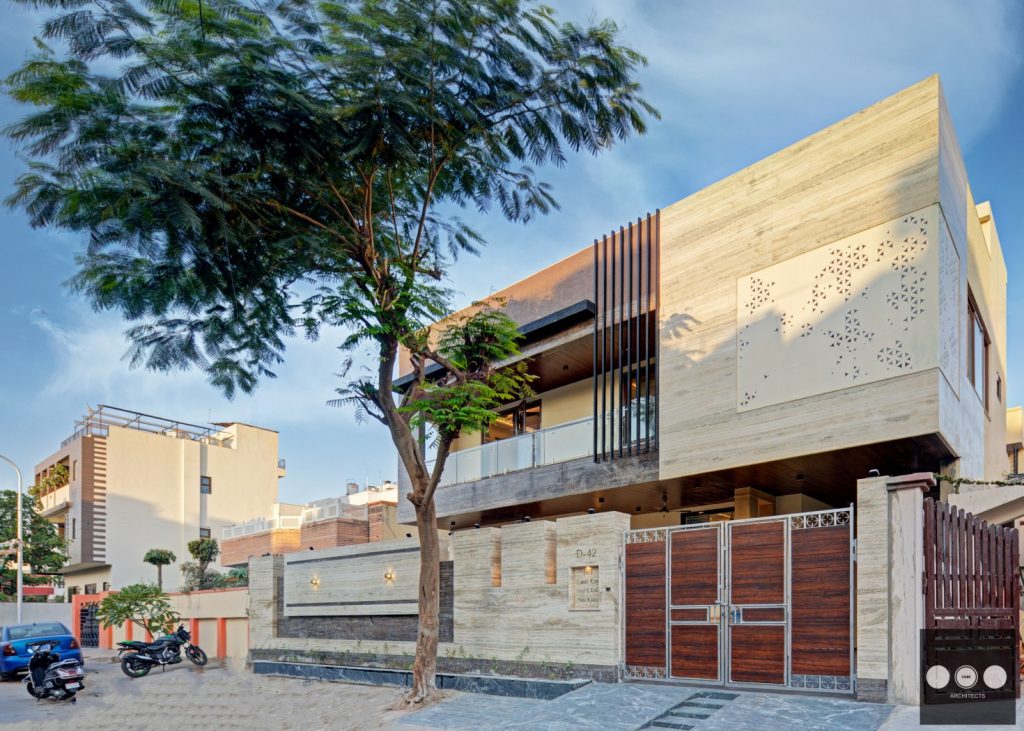 The site has its own challenges from having fewer setbacks to less private terraces. The whole concept is derived to create spaces that are open yet have a private touch. The project had a clear brief to design a luxurious, contemporary space that would have unique elements. The front facade is designed to create emphasis and maintain a balance between all the principles of design.
Fact File:
Design Firm: Ocube Architects
Photographer: Studio Bluora
Area: 3500 sq. ft.
Location: Jaipur, Rajasthan, India
Thus, small house design in India has been focusing more on comfortable living and yet providing beautiful homes. The planning, details, material, and all of this keeping environment in mind is what makes these designs unique in their own way. Such designs break the regularity and generate possibilities of beautiful homes through a different perspective.
The concept of small house design is not merely about building compact structures; it's about optimizing every square inch without compromising comfort or style. This approach is particularly relevant in India, where the population density is high and urban areas are characterized by limited available space.
Cultural Influences on Design
Indian culture and traditions heavily influence architectural choices. From the intricate jali work to the vibrant colors, small house designs often incorporate elements that pay homage to the rich cultural heritage. These designs seamlessly blend modern functionality with traditional aesthetics.
Key Principles of Small House Design
Small house designs adhere to several key principles, including efficient space utilization, clutter reduction, and smart furniture placement. These principles ensure that the available area is maximized without making the interior feel cramped.
Space-Maximizing Techniques
Architects and designers employ ingenious space-maximizing techniques such as built-in storage under staircases, loft spaces, and wall-mounted furniture. These strategies capitalize on vertical space and contribute to the overall functionality of the house.
Incorporating Natural Light and Ventilation
Ample natural light and ventilation are essential for small house designs. Large windows, strategically positioned skylights, and open floor plans help in creating an illusion of spaciousness while maintaining a comfortable living environment.
Furniture and Multi-Functional Elements
Multi-functional furniture items like sofa-cum-beds, foldable tables, and wall-mounted desks are a hallmark of small house design. These pieces serve dual purposes, adapting to the changing needs of residents.
Color Palette and Visual Illusions
The choice of color palette plays a significant role in visually expanding small spaces. Lighter shades, cool tones, and mirrors are often used to create optical illusions that make rooms appear larger than they are.
Traditional vs. Contemporary Designs
Small house designs in India offer a diverse range, from traditional to contemporary styles. While traditional designs embrace ornate details, contemporary designs favor minimalism and clean lines. Both styles prioritize functionality.
Sustainable Practices in Small House Design
Sustainability is a growing concern in architecture. Small house designs in India incorporate eco-friendly materials, rainwater harvesting systems, and solar panels to reduce their environmental impact.
Technological Interventions
Advancements in technology have revolutionized small house design. Smart home systems, home automation, and innovative building materials have enabled the creation of efficient and comfortable small living spaces.
Challenges Faced in Small House Living
Living in a small house comes with its own set of challenges. Proper organization, privacy concerns, and maximizing storage without clutter are constant battles that residents tackle creatively.
Innovative Storage Solutions
Innovative storage solutions like hidden cabinets, modular furniture with storage compartments, and under-bed drawers are essential for maintaining an organized and clutter-free environment.
Creating Openness in Confined Spaces
Design techniques like open floor plans, glass partitions, and minimalistic furniture arrangements contribute to creating a sense of openness within small house interiors.
Outdoor Extensions: Balconies and Terraces
Balconies and terraces serve as extensions of small houses, providing residents with outdoor spaces for relaxation and recreation. Vertical gardens and cozy seating further enhance their appeal.
Conclusion
Small house design in India is an art that harmonizes creativity, culture, and practicality. By thoughtfully utilizing space, incorporating cultural elements, and embracing technological advancements, architects and designers are reshaping urban living.
FAQs
Q: Can small house designs accommodate families? A: Yes, small house designs are adaptable and can be tailored to suit families' needs without compromising comfort.
Q: Are small houses more cost-effective than larger ones? A: Generally, small houses have lower construction and maintenance costs, making them a more cost-effective option.
Q: How can I make a small bedroom appear larger? A: Using light colors, mirrors, and minimizing clutter can visually expand a small bedroom.
Q: What are some space-saving furniture ideas? A: Consider wall-mounted shelves, foldable tables, and beds with storage to optimize space.
Q: Can sustainable practices be effectively incorporated into small house design? A: Absolutely, small house designs offer the opportunity to integrate sustainable features like solar panels and efficient insulation.
For those seeking a harmonious blend of aesthetics and functionality, small house design in India presents an innovative and inspiring solution.
As an architecture and interior designer, I am passionate about creating spaces that inspire and delight those who inhabit them. With over a decade of experience in the industry, I have honed my skills in both the technical aspects of design and the art of crafting beautiful, functional spaces.
After earning my degree in architecture, I began my career working for a prestigious firm where I was exposed to a wide range of projects, from commercial buildings to high-end residential properties. During this time, I developed a keen eye for detail and a deep appreciation for the importance of form and function in design.
In recent years, I have struck out on my own, founding my own design studio where I have been able to further explore my passion for interior design. I believe that a well-designed space can transform the way people live and work, and I take pride in working closely with clients to understand their needs and create spaces that exceed their expectations.
Throughout my career, I have been recognized for my innovative and creative approach to design, and have been honored with a number of awards and accolades. When I'm not working on design projects, you can find me exploring the outdoors or seeking inspiration in the world around me.