Curated by Clara Ott
STORE • CIUDAD DE MÉXICO, MEXICO
Architects : Naso
Area : 35 m²
Year : 2019
Photographs : Maureen M. Evans, Renata Gerdes
Design Team : William Eaves, José Ignacio Vargas
Landscape : Aldaba
City : Ciudad de México
Country : Mexico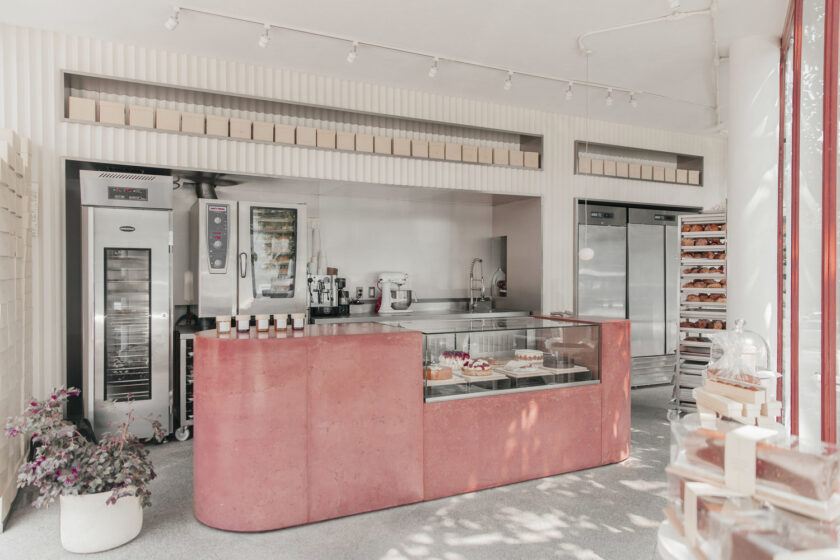 Textual content description offered by the architects. This small area with a decreased triangular plan of 35 m2, is positioned in a privileged location inside an space with nice pedestrian stream. For that reason, the bakery undertaking was based mostly on making a fusion between kitchen, store, and sideboard, permitting not solely the customer to understand the completely different phases of the bread manufacturing course of, but in addition the pedestrians who flow into by way of the road can do the identical. Primarily based on this notion, the clear façade turns into the central component of the undertaking, that accommodates however on the identical time permits visible interplay, the dialogue between the inside area and the road exterior.
To take advantage of the area, the longest aspect of the triangle was used to find components similar to ovens and different kitchen gear, concentrated in a linear area. Along with this, a easy concrete bar was left within the middle of the premises, this divides the kitchen from the shop and creates a floor to show the product. By having glass on the opposite two sides of the triangle that makes up the area, a collection of white cabinets of various shapes have been proposed that enable the product to be displayed on to the road. That is how, as a result of its distribution, the inside of the premises turns into an environment friendly and pragmatic area, circumstances which are instantly mirrored by its visible readability. The aesthetics of the bakery are quite simple; with an industrial look however made with neutral-colored supplies that enable a sense of spaciousness and order.
To steadiness this, the presence of the terracotta shade, which covers the ironwork and was used to pigment the concrete of the central bar, unifies the design and, in a really delicate means, offers a contact of heat. The wall on which the kitchen companies are organized is a steady panel with a white triangulated texture, to which sure openings have been made to accommodate and body the completely different processes of the kitchen and storage of merchandise. All this allowed that by way of easy gestures guided by the programmatic design and constructive ease, it was potential to emphasise not solely the significance of the ultimate product but in addition that of the method of creating it.