Curated by Paula Pintos
LANDSCAPE ARCHITECTURE, MILITARY • VEYTAUX, SWITZERLAND
Architects : Dreier Frenzel Architecture + Communication
Area : 280 m²
Year : 2020
Photographs : Ariel Huber, Eik Frenzel
Manufacturers : horgenglarus, Knauf, Nemetschek
Textual content description supplied by the architects. Initially considered a navy set up, Chillon Citadel has grow to be in the meantime a world vacationer vacation spot. The mild meanders of the backyard layouts, impressed by Rousseau, provide the customer the chance to take a stroll. The paths result in iconic views of the lake, the Alps and the fort, the gaiety of a stroll alongside the water's edge provides to the refinement of the medieval architecture.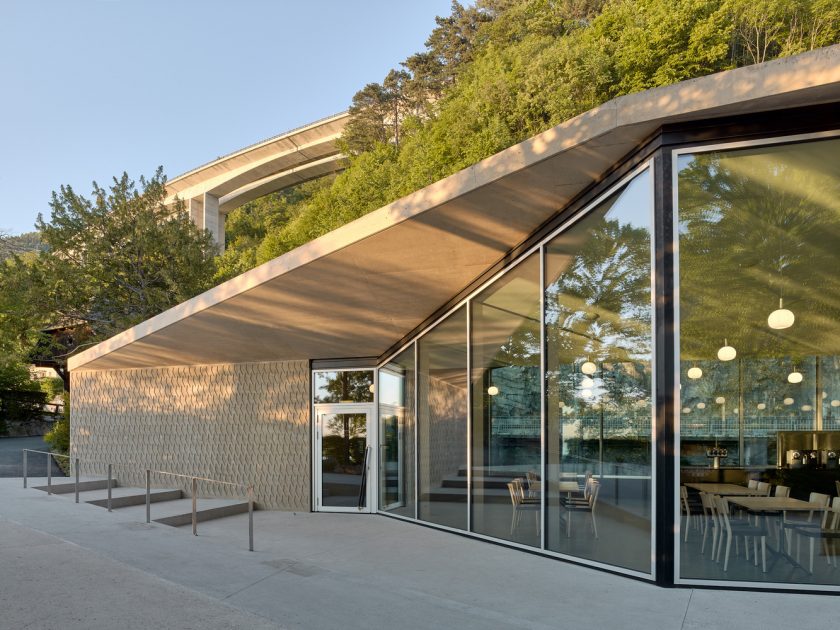 With the assistance of dense vegetation, the fort grounds subtly mix into the panorama and permit the monument to be anchored in its web site. On the identical time, the pavilions of the backyard, touchdown stage, kiosks, forts, on a modest scale, help the sensation of unity and coherence. On the entrance, the pavilion of Café Byron is the final attraction of the backyard. Already from the cantonal street, it attracts consideration like a showcase. With its butterfly roof opening on each side, lake, and mountain, it creates a gesture of openness and welcome. Its radiant angle magnetizes.
Combining minerality and lightness, it unites the location's hues with a up to date and worldwide program. It affords a vast view of the fort whereas adjusting to the pavilion scale. The latticework engraved within the concrete partitions is oriented to the semantic register of the normal pavilions of an English backyard. From inside, glances can wander over the fort, the lake, or the slopes of the Chablais. The pavilion is meant to amplify the «Château de Chillon» expertise, as a spot for contemplation and relaxation.